Almost a year ago I wrote about what had been the first app released by the John Cage Trust, Prepared Piano, created in 2012 to celebrate the centenary of the birth of the American composer. This application is accompanied by another, simply called 4 '33' '.
This new app takes its name from one of the most discussed and controversial works by John Cage, who would put in crisis even his most devoted fans. 4 '33" is a musical composition realized in 1952, a work in three movements of absolute silence, almost. In fact, the score of this work is drawn automatically at each execution, determining itself through the many sounds and background noise, microsounds voluntary or accidental that any concert hall, awaiting the execution of the work itself, is capable of generating during a time span of 4 minuts and 33 seconds, for the note.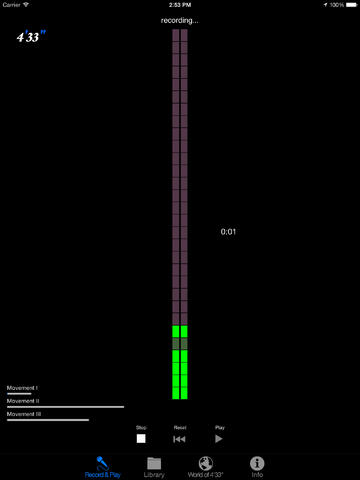 A silent app, then? Not really. Certainly if you are looking for a new application to generate electronic sounds I suggest you look elsewhere, because in this case the idea of the developers was to create an app with which to record the sounds of their environment, to share with other users scattered around the planet, creating a map of many small soundscapes.
Acting like a recorder, the operation of 4'33" has no special complications, and is limited to the Record and Play buttons. From the main screen you can share your environmental records with other users, or to view the map, find other recordings and listen to the ambient sounds of someone who maybe is 4000 miles away from you.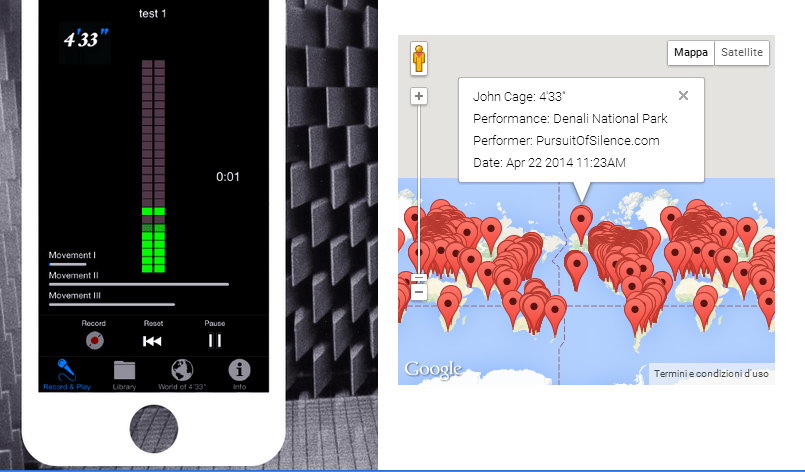 As well as the work of Cage was structured in three movements, even the app asks the user to record as many before you can share the final work with the community.
The app is equipped with a small gem: the ambient sounds of the last New York apartment where lived John Cage. So, good record and good listening.
The application is available for iPhone and iPad, which costs about a dollar. You can download it by following this
 link.