A tool that allows anyone to explore the world of music must have a feature accessible to all: that's why Google created Chrome Music Lab, a music workshop structured to offer a practical and versatile system to create music that was also easy to use.
In addition, with specific reference to interactivity, Chrome Music Lab has allowed musical experimentation to be practiced also in school classes, highlighting and promoting the connection of music with other subjects such as mathematics and science, or with other artistic disciplines such as dance and painting and also stimulating interest in the use of live musical instruments.
Song Maker is one of 13 experiments within Chrome Music Lab and represents one of the practical achievements of Google's intentions included in the project: that of offering a tool that is easy to use, easily understandable to everyone, fun to use, colored in graphics and that, above all, allows to obtain immediate results in the field of musical creativity.
The Chrome Music Lab Song Maker experience
Within Chrome Music Lab, in 2018 Google launched the Song Maker experiment for Chrome, defined, synthetically but effectively, "an easy way to create and share a song". It is, in fact, a real instrument for creating music, with different functional opportunities but which remains, at the same time, practical and simple to use, colorful and fun, therefore also suitable for children because structured like a game.
Song Maker allows everyone to experience the musical experience by creating a real song, through the selection of melodic and rhythm options and with the final possibility to share the song once it is made.
If you want to try to use Song Maker you don't need to install any application, you won't have to log in or create any account: all you have to do is go to Chrome via any device, even a mobile one, and immediately start creating your song directly on the browser, simply by coloring the notes on the grid / pentagram, modifying your creation until you reach the result you like best.
How Song Maker works
Creating your own unpublished song with Song Maker is very simple: we have already said that just click on the grid to draw the notes and start composing. And to do this you can use your finger, the mouse or even the computer keyboard: if you use the PC, pressing the arrow keys you can move on the grid or edit the notes, removing the selected ones or adding others; by dragging the mouse cursor you can create a strip of identical notes. You can also connect a midi keyboard to your device and use it to compose the song, and if you want to hear your voice, activate the microphone and sing a note.
In the melody section the sounds of different musical instruments are available, in the rhythm section you can adjust the tempo of your music and then change it at any time until you are satisfied with the result and want to reproduce it, save it and even share it, download it or embed it in a website.
Menù and features
Song Maker is a sequencer with two sections: one to create the melody and another to define the rhythm.
In the melody section, in the lower left corner immediately after the start button, choose the sound from different musical instrument options, such as the piano, marimba, stringed instruments, woodwinds, and synthesizer … and start drawing the notes.
In the section immediately next to you choose the rhythm, which can be electronic or punctuated by drums (with snare and flat) or by other percussion instruments.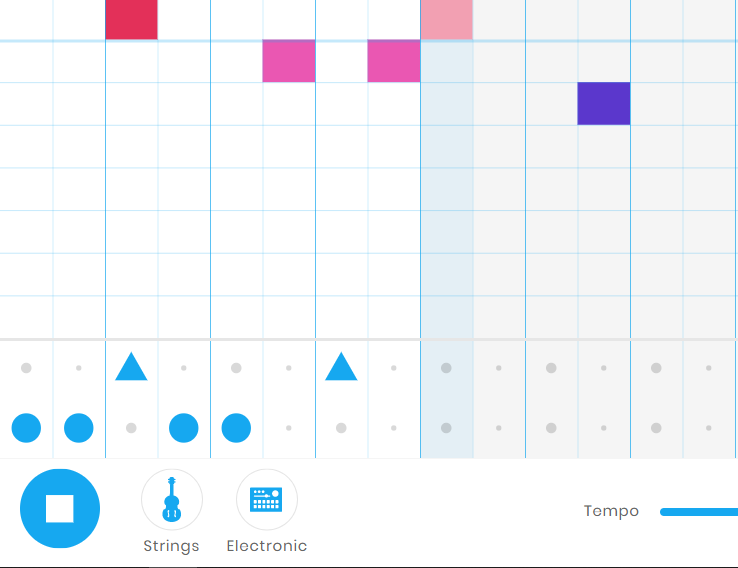 Immediately after that, set the time and, at this point, your musical creation will already have its own identity. By listening to it, you can realize the overall result and the changes you would like to make.
There are still some keys that you can use: the one of the microphone to sing one or more notes, the one of the settings of your staff … and also the one that allows you to delete everything and start again to compose the same song with different characteristics or a new and completely different music.
Finally, find the key that allows you to save your finished song via a link and, if desired, send it or share it.

Some of our observations
Although a bit more complex than the previous Chrome Music Lab tools, Song Maker still has an intuitive functionality and an easy to use system.
In reality, all you really need to do is click the notes on the grid: even if you are not experienced musicians, your composition will still be toned because it will be Song Maker to replace you, restricting the range of notes to be used.
And, even if it gives the impression and the feeling of playing, Song Maker can also be useful to those who know about music, for example to save an idea, a starting point to develop later or to take advantage of a creative moment that arrives at 'sudden in a non-deputy place (remember that you can also use it on your mobile phone …).
On the other hand, music is for everyone: the introduction of the Song Maker video tutorial says it and you can only agree.