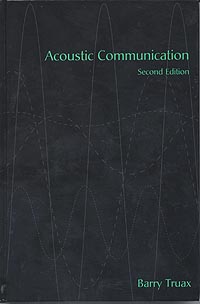 Title: Acoustic Communication
Author: Barry Truax
Publisher: Ablex Publishing Corporation
Year: 1984 (2nd edition 2001)
Pages: 244
Barry Truax is a very well-known composer in the field of computer music, both for different works composed with the computer, both for the research carried out since the Seventies around the development of POD software and for the implementation of granular synthesis in real time.

The seventies also saw Barry Truax engaged alongside Murray Schafer, whose activity and reflection on the theme of the soundscape are, in my opinion, one of the areas most interesting on the contemporary research on sound. I recall that Schafer is the author of one of the most important books on the issue of the soundscape, titled The Tuning of the World (1977).
Acoustic Communication, then, is a book that connects all major phases of the career of Canadian composer. Certainly is not accidental that the book has been structured in two parts, the first of which focused on the soundscape, and the second on the impact of technology on it.
The relationship between the text of Schafer and that of Truax is very tight. The latter recovers much of the terminology and develops many reflections introduced by Schafer, leaders by an image but I would say more scientific, which attenuates the enthusiastically prose of Schafer, and introduces a communicational approach to acoustic problem, such that the acoustics is intended as an exchange of information rather than a transfer of energy.
The second part of the book, as I said, is focused on technological element, and this seems to me a part just as interesting.
Barry Truax investigates the ways in which technology has changed our communities acoustic, analyzing the problem from the perspective of the listener and then highlighting, for example, how and how much is changed the soundscapes in which we all live.
This is a very interesting issue that in my opinion does not interesting only the soundscape but also the aesthetics of music and making music in a much broader sense; because if you do that the boar is conditioned by the wealth of culture and musical sound that each of us carries with it, then we can not ignore the new soundscapes that technology creates and then by the impact that these have on our musical sensitivity, as artists and as simple listeners.
Barry Truax, for example, points out that the drones are, to use a terminology Schafer, the keynote of contemporary society, clearly derivated from technology. I think it is equally clear what the impact the drones have on the  musical composition today, particularly that popular.
Truax's prose is not as exciting that of Schafer, the book is not easy to read and there are moments of boredom, but I found it very stimulating, and able to handle the thoughts that go far beyond the borders of the soundscape.
Following a little preview of the first edition:
Berry-Truax-Acoustic-Communication-excerpt