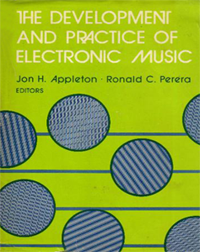 Title: The Development and Practice of Electronic Music
Edited by: Jon Appleton, Ronald Perera
Publisher: Prentice-Hall
Year: 1975
Pages: 384
Some interesting electronic music personalities gathered together for this book edited by Jon Appleton and Ronald Perera, with a large part which includes computer music.
Indeed this book is not an organic project but rather a collection of selected pieces assembled by Appleton and Perera. They have realized a publication devoted to electronic music but with a different approach, if compared with similar books.
After a swift flip through the pages, you can see how this book isn't a music history book, and it isn't a biographies collecting. Again, it isn't a compositional manual for electronic musicians, and it isn't a handbook for engineering students. This book do not shows a collection of electronic music work and don't examines all the several electronic instruments developed over the years.
The Development and Practice of Electronic Music is all of this that I've mentioned before. An editorial work who wants to be an introduction to electronic music history but who wants give to readers awareness about technical and technological matters involved in electronic music.
It's not simple pinpoint the ideal reader of this book, because there are general topics but also very technical, which can alarm those interested in a general history of music.
For me, this book is for those with previous electronic music experiences but interested to examine in depth various subject. If you are, like me, among those which have never entered in the Studio di Fonologia in Milan, Italy, or which haven't walked  through the Columbia-Princeton's hallway, then I think you can read this book and enjoy of detailed explanation of all main devices used in all electronic music centers.
I don't know you, but I didn't know what it was a ring modulator, and during the contemporary music lessons at University we never talked about psychoacoustics or analyzed the technical features of an analog synthesizer. So, this book clarifies all this matters, very important for electronic as for contemporary music, with professional language but simple.
This book isn't only a technical handbook, but illustrates a historical overviews, too. Indeed, the first chapter is written by Otto Luening which remember us the early years of electronic music; what happened during the Fifties in Europe and United States; what did composers such as Vladimir Ussachevsky, Karlheinz Stockhausen, Lejaren Hiller and those who were around the Groupe de Recherches Musicales, and many others. I want remember you the Gordon Mumma's chapter, too. A very interesting writing about live electronic music, focused on the general topic but divided depending on involved instruments. I've scanned the index to show the work plan.
Released in 1975, this book couldn't not analyze what was happening by twenty years with the digital revolution. So, John Rogers write over one hundred pages about how using the computer to compose electronic music, with very technical topics about technological features and programming issues. Clearly, today is too much older for us but in that years it was a very interesting chapter, with many sound examples based on two Music N software such as Music 360 and Music IVBF. The long chapter today says us how important was to understanding a new machine, a new musical instrument, very particular and complex.
Two others features enrich this book: a large amount of photos (showing synthesizers, music centers, composers and so on) and a selected discography of various electronic music, unfortunately omitting popular music.